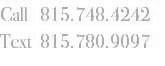 Be the Parent you want to be!
Pregnancy and parenting are filled with lots of uncertainty. This program helps to answer your questions. We want to help you be the best parent you can be--and raise a happy, healthy child.
You can "Earn While You Learn." With each lesson you complete you will earn "Care Cash" that you can "spend" in Hannah's Closet. Clothes, diapers, wipes, and equipment is available.
Lessons are fun, interesting and practical--and you and your Client Advocate will put together a lesson plan that is unique to your needs.
Call today to receive more information---and begin to prepare for the wonderful adventure of parenting! 815-748-4242